About beekeeb
beekeeb is a tiny store operated by 2 people in Hong Kong. The goal is to iterate and improve the aesthetics and ergonomics of custom DIY mechanical keyboards.
Shipping
For the latest updates, please visit http://shop.beekeeb.com/shipping
Do you ship to my country?
The products can shipped to the following countries: Australia, Austria, Belgium, Brazil, Canada, Croatia, Denmark, Estonia, Finland, France, Gibraltar, Great Britian (United Kingdom), Greece, Hong Kong, Hungary, Ireland, Israel, Italy, Japan, Latvia, Lithuania, Luxembourg, Malaysia, Malta, Netherlands, New Zealand, Norway, Poland, Portugal, Singapore, Spain, South Korea, Sweden, Switzerland, Germany, and the United States. Please contact me if you want to ship to other destinations.
Taxes and Duties
You are responsible to pay import taxes, customs duties, or a brokerage (handling) fee for your order.
Products
Do you have provide warranty and support?
Sorry, no. All parts, prototypes, and products are not designed for consumers. They are provided without warranty of any kind. Please visit keyboard communities such as /r/MechanicalKeyboards, Deskthority, and geekhack.
Are the unpainted resin 3D printed parts in white?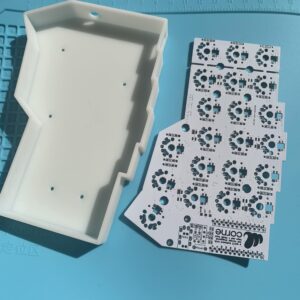 UV-cured resin is not as white as paints. A raw, unpainted resin is pale yellow in color.
Do you have accurate measurements?
Measurements are for reference only. I measure by hand with a digital caliper. One of the most important measurements is the holes for keys switches. For instance, switch plates are tested physically to make sure the switches can be hold tightly, but not too loose. In this shop, a tight switch hole is preferable. Optionally, you might need to sand the hole.