Material:
The keycap is 1u for using in choc spaced keyboards, for example:
Ferris
Sweep
Cantor
Cantor Remix
Note:
Corne Choc version, SofleKeyboard, Lily58 Pro Choc can use MX spacing Kailh Choc keycaps or the emptywind984 Keycap Set.
Important:
They are 3D printed with Nylon.
The Nylon keycaps are grainy and textured. But the stems are weak because they are 3D printed.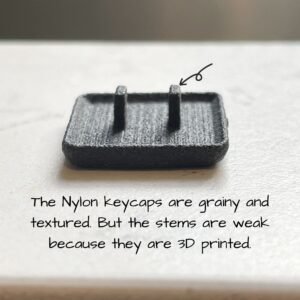 This is remixed from the design by FredMF, licensed under the Creative Commons – Attribution license.